Noise Nuisance Recorder - Noisy Neighbors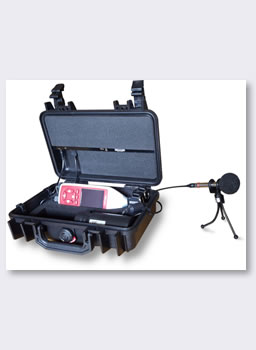 Neighbor Noise Recorder
Software
After monitoring the noise levels and making audio recordings of nuisance noise, you need to download these from the sound level meter to a computer to view, listen and generate reports.
Noise Nuisance Reporter
This software is included with the NNR63x Noise Nuisance Recorder. It downloads the measurements, lets you listen to the recordings and presents reports. As it is designed purely for this type of application it is very quick and easy to use.
View
Graph of daily noise levels
Table of noise events
Graphs of noise evens
Listen
Listen to recordings
Identify the noise source
Hear background noise
Report
On screen reporting
Printed reports
HTML reports with audio
Sharing Reports
Noise reports can be exported straight from the software to HTML format. These can be sent to other people on a memory stick and viewed in a standard browser - no need to install the Noise Nuisance Reporter software to view these reports and listen to the recordings.
Printed reports can be generated showing the noise levels throughout the day and information about the noise levels of each event. This same information can be exported to Excel, Word and other similar applications. The audio recordings are stored in standard WAV files, which can also be sent to other people to listen to.
Other Software Options
The included software should be all you need for most noise nuisance applications. As it is designed purely for this type of application it is very quick and easy to use.
If you need to get more from the meter for different applications then you can also use the CasellaDrive software (free of charge) or the powerful Insight software. You will need one of these to use features such as Octave Band Filters that are available on some of the meters.