LiveNoise LNT-SE Noise Monitor with Ethernet & WiFi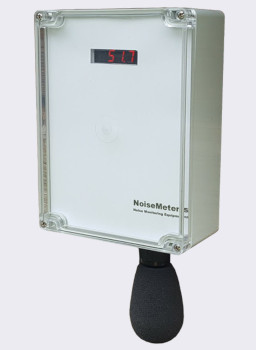 Noise Monitor with
WiFi or Ethernet Link
Software
The LiveNoise Supervisor and Reporter software packages are both included when you buy one or more LiveNoise Noise Monitors.
System Summary
The LiveNoise system consists of a number of noise monitors, all connected to the local network. A program called Supervisor runs on a computer on the same network, talking to the noise monitors all the time and displaying the sound levels. If the alarm conditions are met (sound level too high for too long) then this is displayed in the Supervisor software. At the same time the Supervisor software stores the noise measurements for later analysis and reporting.
A second program called Reporter also runs on this computer, or on any other computer on the network. You can run it on as many computers as you like. This accesses the measurements downloaded by Supervisor and produces reports.
---
Supervisor
Connects to LiveNoise Monitors on your network
Displays real-time sound levels
Shows high noise level alarms
Emails alerts for high noise levels
Downloads and stores noise measurements
Configures alarm levels for remote monitors
This program runs on one computer on your network, typically in the Supervisor's office or control center. It receives real-time noise levels from each noise monitor, which it displays on a colored bar graph (green, yellow, red) and on a chart.
LiveNoise Supervisor Software
As noise measurements are usually location based, you can add an image to the background. This could be a floor-plan for a factory, aerial photograph of a construction site, or a photograph of an open plan office. The noise monitor windows can be positioned on the background, giving a clear view of where the noise levels are problematic.
Each noise monitor has its own window in the software. The window can be set to show just the name, turning red when an alarm occurs, it can show the green/yellow/red bar graph, or it can show a time history chart.
Tiled Display of Real-Time Levels
Site Photo Background
Floor Plan with Minimal Display
---
Reporter
Displays measurements downloaded by Supervisor
Daily, weekly, monthly or custom period reports
Daily noise charts to a resolution of 1 second
Print reports
Export reports to HTML for sharing
This program usually runs on the same computer as the Supervisor software. However, it can run on other computers on the network too, as long as they have access to the Supervisor software's data folder.
Most noise and alarm reports can be generated over daily, weekly and monthly periods, or custom dates can be selected.
The types of reports include charts and tables of:
Periodic noise showing Leq, Ln, Lmax, Lmin
Alarms indicating high noise levels
Noise profile with a resolution of 1s
LiveNoise Reporter Software
All reports can be printed, exported to HTML or copied into a spreadsheet or word processor program.
Periodic Noise Report
High Noise Level Alarms
Noise Profile Report
---
Computer Requirements
Computer
As the software is very efficient, it will run adequately on an entry level Windows PC. For systems with a large number of noise monitors a higher power computer will provide a better display of real-time noise measurements. The software does not need a dedicated computer, it will happily run on an existing machine that is running other software. It can minimized to the system tray and set to only alert you if there is a high noise level alarm.
Networking
To communicate with the noise monitors the computer running the Supervisor software is usually connected to the same network. It is possible to connect to noise monitors on other networks or elsewhere on the Internet, but this will require additional work for routing and firewall rules.
If the Reporter software is installed on the same computer as the Supervisor software then there should be no access or network issues. If the Reporter software is to be run on a different computer, or on multiple computers, it must have access to the directory that Supervisor is saving the measurements to. This path can be set to a shared location in both Supervisor and Reporter.
Notes For The IT Manager
As the software communicates directly with the noise monitors and accesses the Internet for registration and update checks (only upon user request), you may have to update some firewall rules. On smaller (less managed) networks, this just means allowing the software to have Internet access when prompted by the Windows Firewall. This happens the first time you run the software. For more managed and secure networks the IT Manager will have to make these allowances.