LiveNoise LNT-SE Noise Monitor with Ethernet & WiFi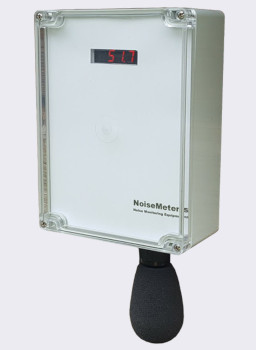 Noise Monitor with
WiFi or Ethernet Link
Connection
The LNT-SE noise monitor needs to communicate with the LiveNoise Supervisor software to provide a real-time display of sound levels and for long-term noise measurement storage. With the Supervisor software running on a computer on your network, the LNT-SE noise monitor just needs WiFi access or a wired Ethernet connection to the same network.
WiFi
If you have a WiFi network then all you need to do is provide the noise monitor with the router name and password. This configuration is carried out using the supplied software.
Wired Ethernet
The noise monitor has an Ethernet port (RJ45) for connection to your wired network. This is a weatherproof socket and for outdoor use you will need a suitable weatherproof cable or weatherproof RJ45 cable housing. For indoor use a standard RJ45 network cable can be used.
LiveNoise Network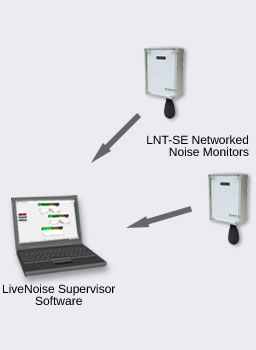 A typical network of noise monitors on the LiveNoise system.
Each noise monitor just needs power and access to the WiFi network or wired Ethernet network.
A computer on the network runs the LiveNoise Supervisor software, which shows the real-time noise levels and downloads all the measurements for long term storage and reporting.
Other computers on the network can access the noise measurements using the LiveNoise Reporter software.