dBadge2 PLUS Noise Dosimeter - With Audio Recording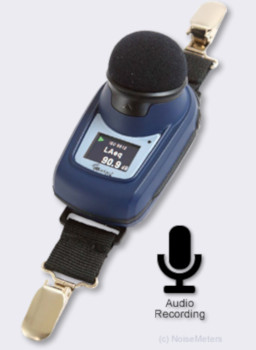 Intrinsically Safe Noise Dosimeter
The dBadge 2 PLUS noise dosimeter has ATEX and IECEx approval for use in hazardous and potentially explosive atmospheres. This I.S. design and approval make it ideal for use in the oil, petrochemical, pharmaceutical and mining industries.
Approvals
These approvals apply to the Intrinsically Safe version for the dBadge 2 PLUS noise dosimeter. These are identified by the letters "IS" in the order code, as described in the Order Codes section on this page.
ATEX
Ex ia IIC T4 Ga
Ex ia IIIC T135°C Da
Ex ia I Ma
Tamb: -20°C to +45°C
Dosimeter Functions
With regard to noise measurement functionality, the Intrinsically Safe version of dBadge 2 PLUS is identical to the non-approved version. It measures all the same acoustic parameters, displays the same information and has the same data storage. It is completely compatible with the standard dBadge2-PLUS version, so you can have a mix of I.S. approved and standard versions, keeping the I.S. ones for use in the areas with a hazardous atmosphere.
Order Codes
The order codes for the Intrinsically Safe version of the dBadge all contain the letters "IS". They are shown in the ordering and pricing boxes at the top and bottom of this page.
The kit codes are DB2ISPLUSKx, where x indicates the number of intrinsically safe dosimeters that are included.
Limitations of Intrinsic Safety Approval
Only the noise dosimeter and its direct attachments (mounting devices) are approved for use in potentially explosive atmospheres.
None of the additional items such Charger or Calibrator are approved, so all tasks such as charging and calibrating the dBadge should be done outside the hazardous area.
Kits contain dBadge2 PLUS Dosimeters with Audio. Kit has dBadges, Calibrator, Dock/Charger, Peli Case and Software.
Kits with 1, 2, 3 and 5 dBadges have one 3-way charger. Kits with 10 dBadges have two 3-way chargers.
Order Code
Description
Purchase
Price (USD)
DB2ISPLUSK1
Kit with 1 Intrinsically Safe dBadge2 PLUS Dosimeter, Calibrator, Charger, Software and Case
$2526.00
DB2ISPLUSK2
Kit with 2 dBadge2 PLUS Dosimeters, Calibrator, Charger, Software and Case
$3980.00
DB2ISPLUSK3
Kit with 3 Intrinsically Safe dBadge2 PLUS Dosimeters, Calibrator, Charger, Software and Case
$5406.00
DB2ISPLUSK5
Kit with 5 Intrinsically Safe dBadge2 PLUS Dosimeters, Calibrator, Charger, Software and Case
$8176.00
DB2ISPLUSK10
Kit with 10 Intrinsically Safe dBadge2 PLUS Dosimeters, Calibrator, Charger, Software and Case
$15048.00