Sound Level Meters in the Republic of Ireland and Northern Ireland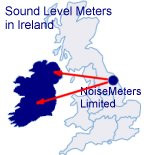 NoiseMeters Limited is a British company, based in the North of England, supplying sound level meters and noise dosemeters (like the popular dBadge) to Ireland and Northern Ireland. Most of the products offered on the noisemeters.co.uk (prices in Pounds) and noisemeters.ie (prices in Euro) web site are manufactured in the UK. Those that are manufactured elsewhere are held in stock at our UK offices so we can offer quick delivery to Ireland.
Republic of Ireland - www.noisemeters.ie - Prices in Euro
Northern Ireland - www.noisemeters.co.uk - Prices in British Pounds
Popular Products for Ireland
Product
Description
NM102

Low Cost Sound Level Meter
Ideal for simple noise surveys and assessments.

dBadge
dBadge Noise Dosimeter in a very small and robust package
Mounts on the worker's shoulder and monitors their noise exposure. I.S. version available.
CEL240
Class 2 Sound Level Meter
A low cost Class 2 sound level meter with calibration certificate.
CEL620
Class 2 Integrating Sound Level Meter for Noise at Work Assessments
Ideal for noise at work assessments in line with the European Directive.
CEL633
Class 1 Data Logging Environmental Sound Level Meter
Real-time analyser with 1/3 Octave Band Filter option. For environmental and occupational noise.
SE2EAR
Noise Warning Sign
For factories, hospitals, neonatal units, schools and hotels. When the noise levels are too high the sign gives a clear message.
Payment
Payment for sound level meters and related products can be by credit card (VISA or MasterCard), cheque or bank transfer. Well established businesses, educational establishments and hospitals can easily open an account and benefit from 30-day payment terms.
Delivery
Delviery to Ireland is usually by 48-hour courier service, unless otherwise state on the web page. Quicker delivery can sometimes be acheived but 48-hour is the usual. The basic delivery charges are:
| | | |
| --- | --- | --- |
| | Small sound level meters | €16.00 |
| | Standard sound level meters | €32.00 |
| | Noise Measurement Kits (meter, calibrator, case) | €38.00 |
| | Noise Warning Signs | €38.00 |
Value Added Tax - VAT
Northern Ireland - VAT will be added to all prices at 20%
Republic of Ireland - For VAT registered companies, VAT is charged at 0% in line with EU regulations. For non-VAT registered entities it is charged at the UK rate of 20%.
Contact
If you have any questions about working with NoiseMeters then please contact our UK office on +44 845 680 0312 .